Bread Recipes
---
Regular Bakery Bread
The first question that mostof you will ask is - Can you actually bake bread at home, the quality of which matches the bakery?
The answer to your question is YES ! Follow the simple recipe and viola! you have fresh breads at home.
Take a large saucepan. Add 1.5 litres of water and warm it over a gentle flame. Don't over heat the water lest the yeast gets denaturated! Add 2tsp of salt, 8tbsp of sugar. Stir well and then add 5tsp of yeast. Ensure that the yeast is stirred well into the water and then add 1/2 cup of cooking oil. Mix well. Now add 1.5 kg of maida (flour) into the saucepan and stir well with a ladle. Ensure that the flour mixes well with the water. Keep adding flour and mix the dough well to achieve a chewing gum consistency at the end. Dust with flour and keep kneading. The kneading technique is to pull the end of the dough farthest towards you and fold it to the end closest to you. then press your fists to the dough and push it away from yourself. Ultimately you should land up with a soft, mouldable dough. The consistency should be of a fluff pillow. You should be able to indent it with our fingers and it should spring back to near original position.
Grease the trays: Spead oil and rub in all internal surfaces. Spray flour and coat the greased surfaces with flour (powder coated!)
Pull away portions of the dough and place in the tray.Mould into shapes if desired. Allow it to rise for an hour in a warm place. Place in the oven for 20 minutes at 200 degrees celcius.
How to ensure that the bread is baked? knock on it and you will hear a hollow sound. Pass a skewer through it and it should return without anything sticking on it.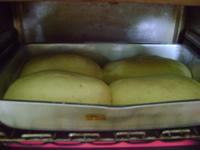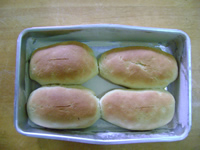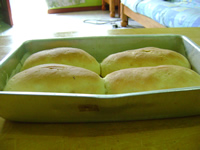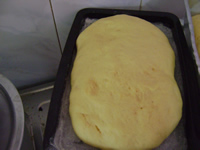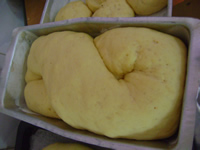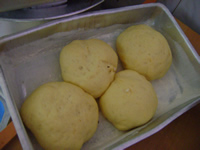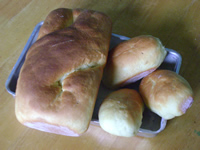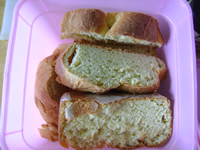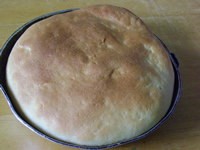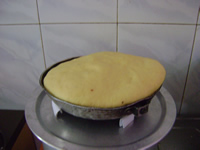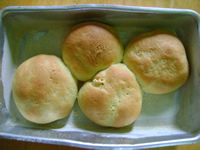 Videos of the bread to show its blend and softness
---
Donuts
How to make donuts?
| | |
| --- | --- |
| | The most important ingredient that is needed is a cup! Please choose a standard cup and then we will move on from there! |
Method
First powder

½ Cup of sugar

.
Take

1 Cup of warm water

(not to hot or else the yeast will get denatured) and to it add 1/3 cup of powdered sugar,

½ tsp salt, 5 tsp of yeast

(yes 5 teaspoons! – don't be alarmed, the taste will not be spoilt. Add less and it will not at all rise)
Once the yeast, sugar and salt have mixed well, add

3 tbsp of milk powder

(and mix well), then add

½ cup mashed potato

(don't skip this essential ingredient!) and then add

2tbsp of oil

and mix well. [ If you want a milo or cocoa flavor, add 4 tsp of milo powder before adding oil. Cocoa powder will be 1tsp only! ]
Finally once the above is well mixed, add

2 ½ cup of maida

. First, add 2 cups and mix well, then add ½ cup more. Mix with a spoon and once it is of a suitable consistency, knead with hands.
Now make chappatis of ½ inch (yes, half inch!!!) thick and cut the outside with the cup and for the inner hole you can use the cola cap (PET bottle cap).
Place the donuts on a floured surface for 30 minutes.
Fry them in a pan, on a very slow flame till they rise well. Ensure that the flame is low, lest the donuts burn!
Once fried, place on a tissue paper to soak off oil and then sprinkle with the remaining powdered sugar.
Refrigerate and enjoy!
---
Jovial's special Donuts - Less oil, Less sugar, Less Mess !
There are those of you who wonder if Donuts can be made with lesser effort and lesser sugar/oil. Not to forget, no compromise on the taste. The answer is YES!
Take 2 cups of water, and warm a little (you know why!) add 1 tsp salt and 4 tbsp sugar, 4tbsp milk powder and mix well. Add 2 tbsp yeast and mix well. Add maida till you get a good consistency (which by now you would have mastered!) Shape into donuts, allow to rise for an hour and bake for 15 minutes at 200 degrees Celcius. Allow to cool, refrigerate and enjoy them cold!
---
Parota
Take 1 cup of water, add 1/2 tsp salt and add 3tbsp oil. Mix well. Add maida OR flour and mix well till homogenous and a chewing gum consistency. Spread into any shape with a rolling pin. Apply oil on the spread surface and roll the sheet like a scroll. Wind the roll like a spiral and dip the end in the centre of the spiral. Oil both surfaces and spread into a round shape. Fry with oil. Enjoy!
---
Patties
The ground work to make the dough is similar to parota. The technique to make patties differs from chef to chef. I am an amateur. My method is simple. Roll out the dough into a large rectangle and grease it well. Fold it length wise four times to get a 3 inch x 7 inch sheet. Grease all surfaces and spread it out into a large rectangle of 8 inches x 12 inches. Grease and refold as above. place filling in the centre and bake for 15 minutes at 200 degrees Celcius.
---